CALLS TO ACTION:


Check out what our new Compatriot Alan Meyers has arranged!
Our camp will be the envy of the neighborhood!
There are several products available.
http://www.cafepress.com/SCVIE.503186213#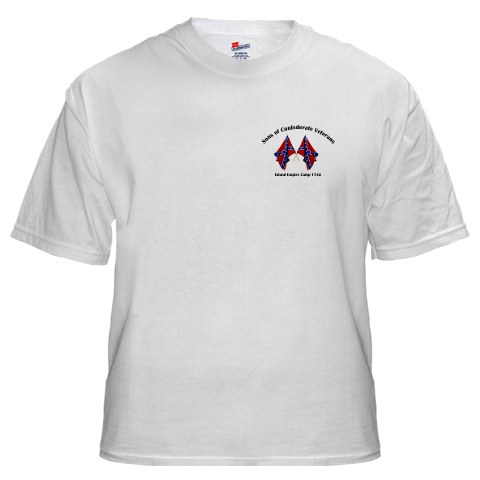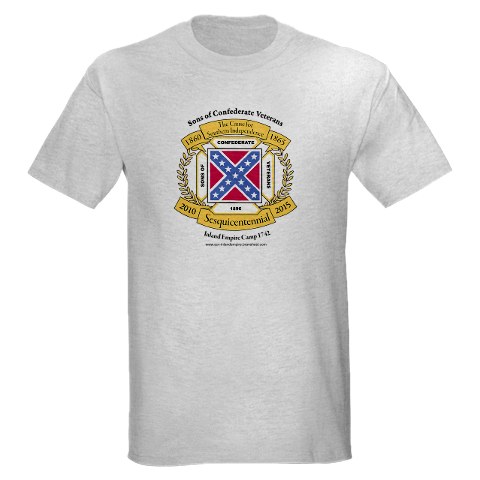 ---
Tim Desmond, Adjutant of Fresno SCV Camp, has set up an opportunity to have your Confederate on a T-shirt. Proceeds from his project to toward their camp's memorial, which is part of the SCV National focus on the Confederate Sesquicentennial.
Sons of Confederate Veterans Camp 1804
T-shirt order form
It is a gray cotton short sleeve T-shirt. California SCV logo is on the front left breast.
On the back is the information about your Confederate Ancestor.
Ancestor Information:
Rank _________
Name _________________________________
Company or Battery __________
Regiment ________________________
Important Dates: __________________
Enlisted ____________________
Paroled or Surrender ____________________
KIA or of Death ____________________
Other ___________________________________________
Ship to:
Name __________________________
Number & Street ________________________________
City & State_______________________________________
Zip Code______________
Price for all sizes $15.00
Small ______Quantity
Medium ______ Quantity
Large ______ Quantity
X-Large ______ Quantity
XX-Large_____ Quantity
________________________
Total Quantity _______ x $15.00 = $ __________
Get at Meeting or Plus shipping + $4.00
TOTAL = $ __________
Check or Money Order Print and use the Federal mail service.
MAIL TO:
TIM DESMOND
6524 N. EL CAPITAN
FRESNO, CA 93722
---
Gents,
Former Camp 1770 Orange County Commander Gordon Bricken has published a book on Orange County Confederates.
PRESS RELEASE
New Book by Gordon Bricken Features Civil War Vets in Orange County, CA.
A Fascinating New Book Features Civil War Vets in Orange County, CA
BOOK REVIEW:
If you like Civil War history or where Orange County got a lot of its early leaders, you'll be fascinated by a new book, "Pioneers in Blue and Gray-Civil War Veterans in Orange County" by Gordon Bricken.
Painstakingly researched and chock full of graphic photos and incredible stories, the impressive work by the former Santa Ana mayor will keep you glued to it from cover to cover.
You'll learn about more than 1,000 Civil War veterans, including 741 Union and 97 Confederate, with roots to the OC.
You'll see where the early leadership came from with the likes (and biographies) of Union vets, such as:
-Dr. William Freeman, who organized Fullerton Hospital and became President of the Orange County Medical Society.
-John Ord, who was known as "the Father of Seal Beach."
-Nathaniel Brooks, called "the Father of Laguna Beach."
-Samuel Wood, who served on the first OC Board of Supervisors
Significant Confederate vets include:
-Henry Peabody, a newspaper publisher based in Santa Ana.
-Dr. Henry Head, a State Assemblyman
-John Avas, who served on the first Santa Ana City Council.
Bricken, who is the current President of the Santa Ana North Rotary Club, is an excellent writer who objectively shows just how the OC became tied to the Civil War through these brave men. There are more than 280 biographies (including several extended ones), many accompanied with awesome photos that reveal character, and sometimes the pain of these remarkable vets.
Helping make the journey back in time even more exceptional are exhaustive, easy-to-read charts listing veteran names, ranks, ages, military units and burial locations, where you can visit their graves.
Readers will learn the unbelievable story behind the namesake of Glassell Street in Orange. Former Confederate Navy Officer William T. Glassell was very creative in his efforts to try and "sink" Union ships.
Another thing you'll learn is true for many wars-- that the price of victory sometimes isn't much different than the price of defeat.
I highly recommend this epic opus, not only to libraries, geneaology centers and historians but to everyday readers looking for a fun and unique read.
-Reviewed by Craig MacDonald, Historian, Author and Army Veteran
For further information regarding this book, please contact Gordon Bricken at
GBricken@aol.com
or (714) 835-0249
---
Compatriots,
You may remember a few years ago when we had a deal with Amazon where the SCV got a percentage of the money you spent there. Wouldn't it be nice to have places to shop where a portion of your money goes to support the SCV? Now you have that place, a whole mall in fact. A mall with hundreds of stores where each purchase helps the SCV. There you will find all the big name stores that you may already order from. Also there are discounts and coupons available.
We now have the SCV on-line Mall. We have partnered with an organization called We-Care. Their motto is Shop with Purpose. Well we certainly have a purpose!
The link is:
http://scv.we-care.com/
Of course this can only be a successful venture if we use it. Please immediately book mark that page. For those who might forget to go there before shopping, you can download a reminder, so that if you go to, for example eBay or Amazon, a box will pop up that asked is you want a portion to got to the SCV, you will of course say yes! You can find the reminder program under the Downloads tab on the Mall page or go to:
http://scv.we-care.com/Downloads/Reminder/
Please go check this out and spread the word. Anyone can shop there! Send the links to all your friends and family. Use it for business purchases. Put in on your social networking sites like facebook. Make it a part of your signature on your emails. Put the link on your personal webpage. Below I have placed a web banner that you can attach the link to. I ask all SCV webmasters to put it on their sites. Notice that I have not used the SCV logo on the banner, that way any of our friends, like the UDC or OCR, can place it on their sites as well!
I truly believe this program will benefit us greatly. Be sure to forward this email to your contacts,and place this information in your newsletters. I hope you all enjoy using this service and I appreciate your efforts.
YOS
Chuck McMichael
CiC SCV
---
The SCV introduced this Sesquicentennial T-Shirt at the 2009 National Reunion in Hot Springs and sold 200 of them in 3 days. Manufactured by Dixie Outfitters, these shirts are 100% Preshrunk Cotton and come in sizes Small though 3XL. They have the Sesquicentennial Logo on the front pocket and a large Logo on the back.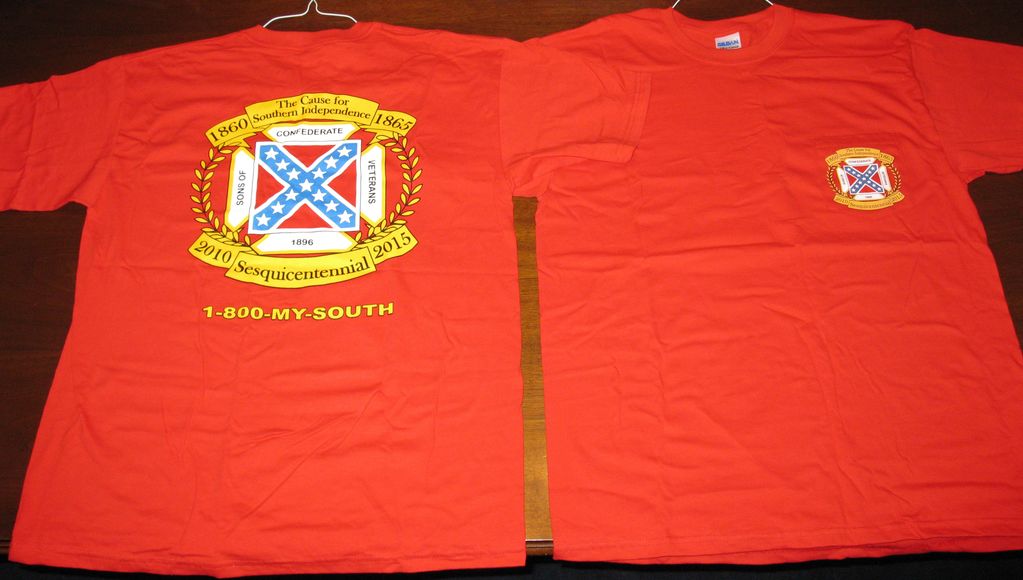 Compatriots,
There are two updates to our offerings concerning sesquicentennial items.In case you missed the notice from the last GEC meeting, the GEC voted that one does not have to be an SCV member to join the Sesquicentennial Society.
Second we now have vehicle plates available for sale from GHQ. They are $12.99 each. The colors they are available in are Red, Blue, White and Black
.
Again, these are for sale to anyone.
You can call HQ and order: 1-800-380-1896
Or order on line:
Link
---
For those who are tracking down their Confederate forefathers, there is a family history center in Redlands that is great for the job. The center is a branch facility of the Mormon Family History Library in Salt Lake City. It is open to everyone and features internet access, microfilm machines and select public records. The center is at 350 Wabash Ave, Redlands, CA 92374, the corner of Wabash and 5th. For more information, contact the center, 909-794-3844, or
www.familysearch.org