04/08/17 SCV CAMP 1742 Meeting at ROC's Firehouse Grille, Palm Desert, CA.
Minutes From The Meeting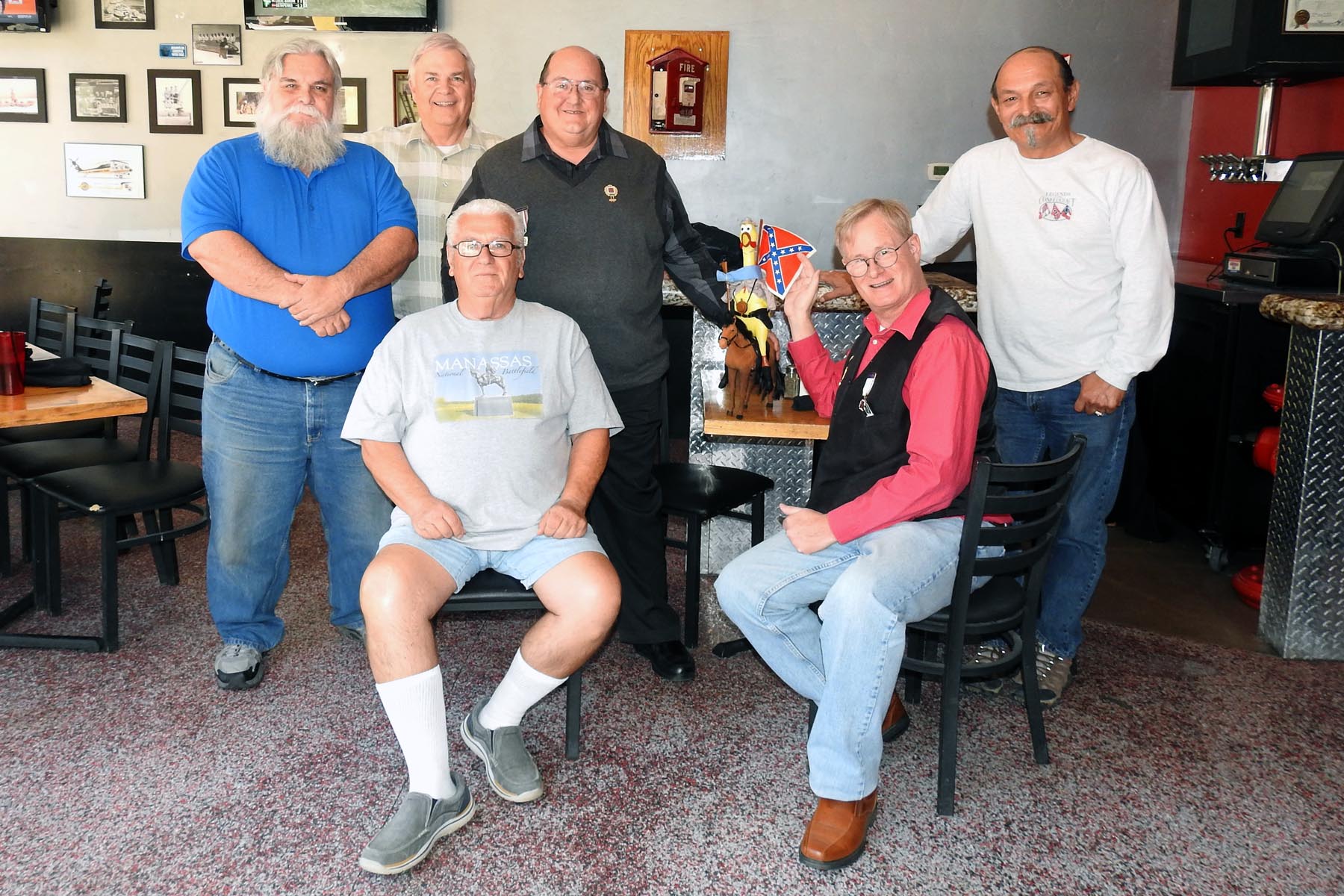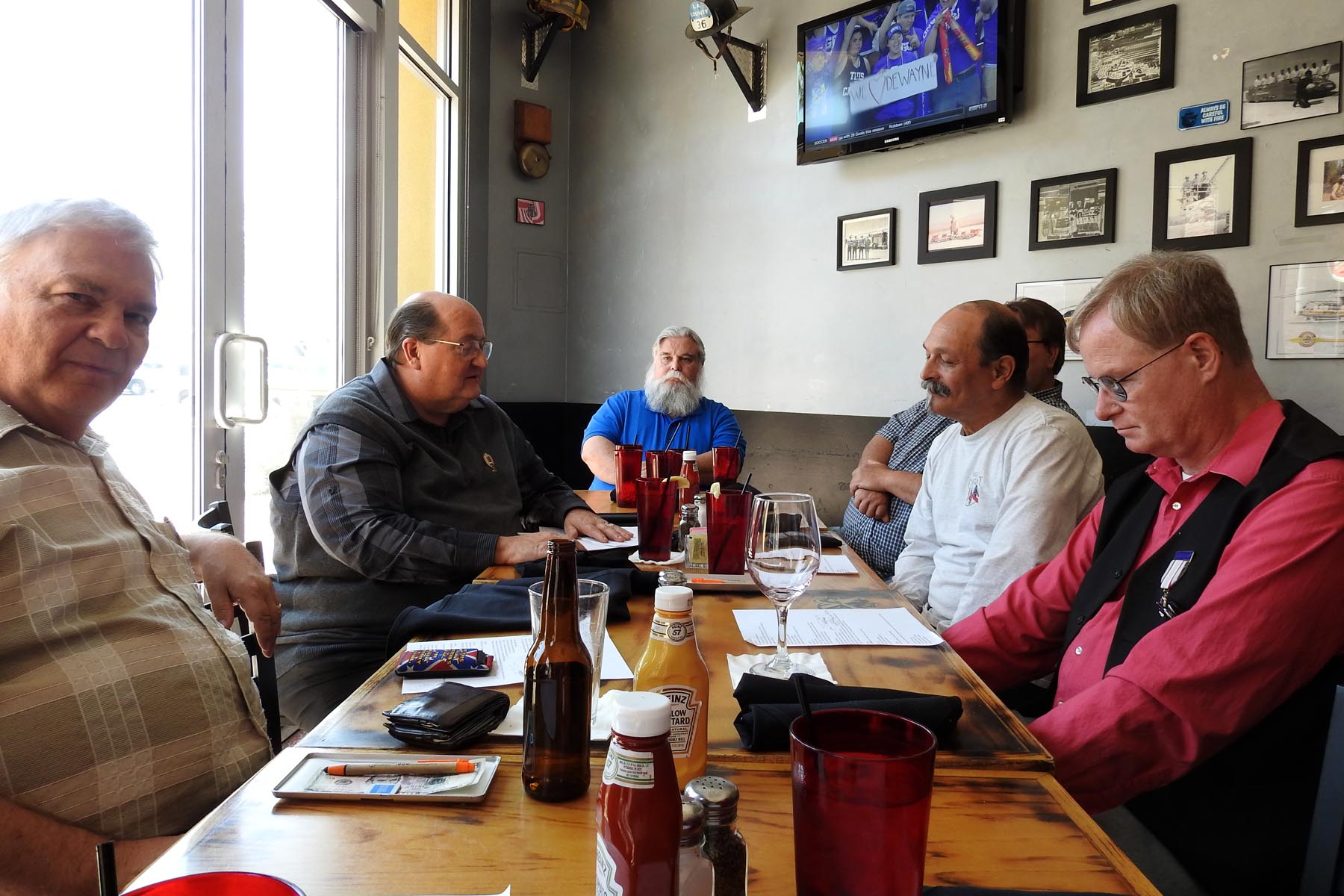 ---
03/25/2017 Camp 1742's Confederate Veterans Memorial Observance

I want to thank everyone who attended and contributed to Camp 1742's Confederate Memorial Observation on Saturday March 25.

We had a terrific turnout and I believe everyone enjoyed the event.
We opened the ceremonies with an Invocation by John Smoley.
Then our guests in Uniform led by General Pickett (Ken Frey) & Jim Craig posted the Colors.
Next everyone participated in the reading the pledges.
Steve Madden then read the charge to the SCV from Steven Dill Lee.
Next we were entertained by the Armory Band & Choir.
Pam Jackson, President, UDC Bonnie Blue Flag Chapter #2140 then provided us with a beautiful memorial address.
Next the Ladies of the UDC Bonnie Blue Chapter #2140 did the Roll Call of the States.
A special honor roll call for "The Men Who Served the Hunley" was presented by Mike Climo.
Then we were very moved by a Memorial Address from John Smoley.
We all then sang Amazing Grace accompanied by the Armory Band & Choir.
Closing announcements were done by John Smoley & Mike Climo.
We then all sang Dixie accompanied again by the Armory Band & Choir.
Closing Benediction was done by John Smoley.
Then we enjoyed a delicious picnic lunch courtesy of Steve Madden who then led a grave decoration to one of our interred CS Vets.

Mike Climo







---
03/04/2017 Camp 1742 Confederate Flag Day
Camp 1742 Members Mike Climo, Jon Hussey, John Smoley & Compatriot John Hanson and his two children assembled at Corona City Hall to present the Colors in observance of Confederate Flag Day.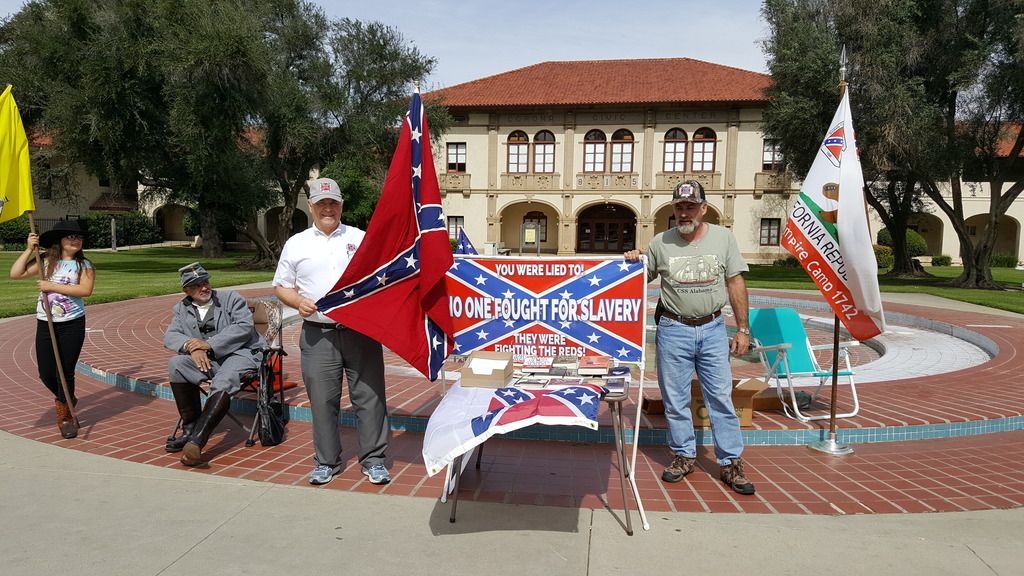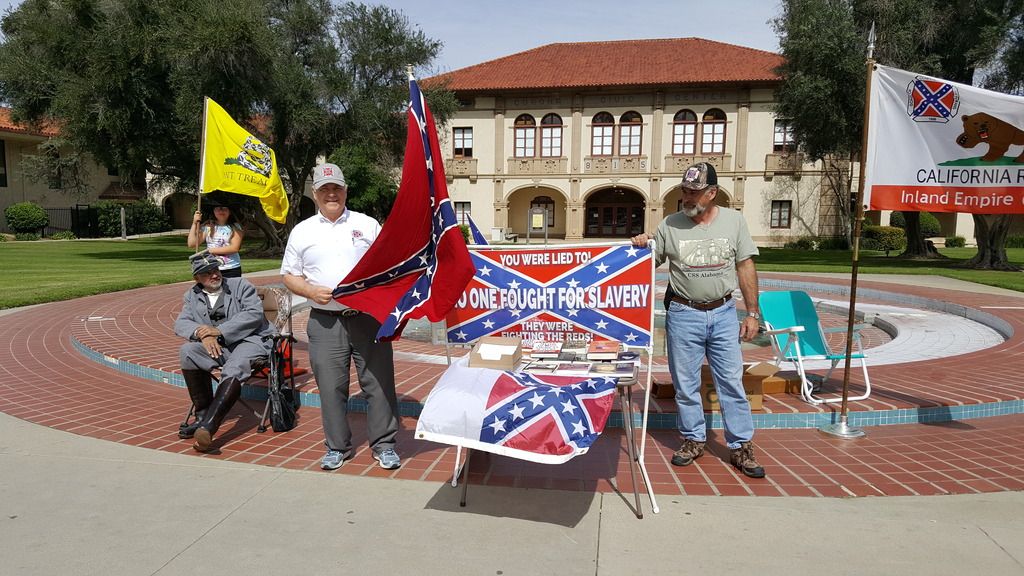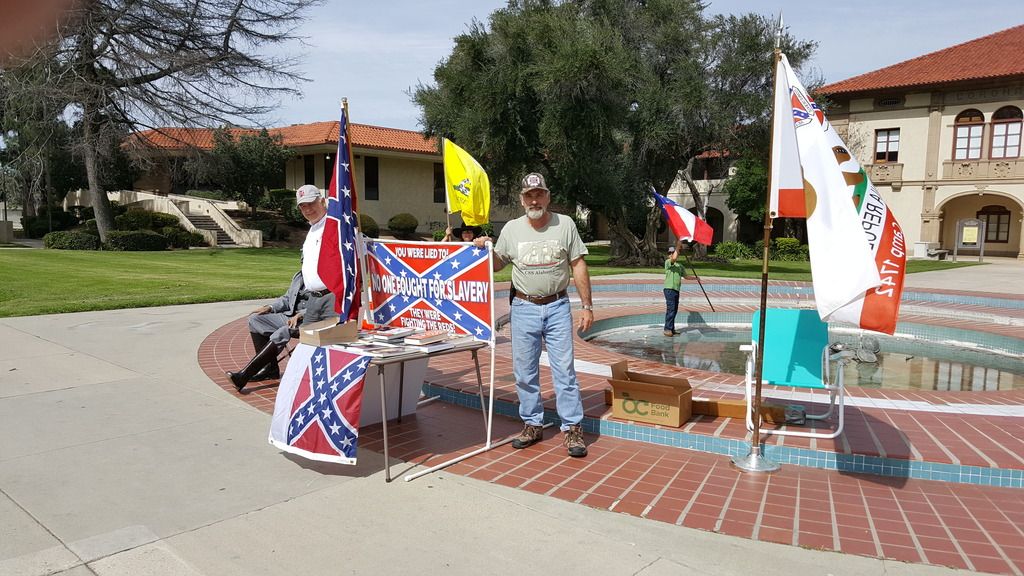 ---
01/28/2017 Camp Meeting

Fellow Citizens,

The Inland Empire Grizzlies met this Saturday past at Marie Callendar's Restaurant in Corona CA, for our first meeting of 2017
It was attended by: John Smoley, Mike Climo, John Hamm, Jim Craig, Ken & Sylvia Frey, Steve Madden, Jerry Dupree, Sean Martin, Joe Aceves & Jack Spencer

Meeting was opened just before noon, began with prayer by John Smoley, pledge led by Sgt at Arms John Hamm, Salute to Dixie and reading of the Charge by Steve Madden. About 20 minutes of conversation and fellowship during lunch and then balance of meeting.

Items discussed included:
Upcoming Division Re-union in Bakersfield We learned that in addition to creating the heirloom welcome bags (by Mrs Smoley), we are in charge of decorations as well. Steve Madden in charge of decorations Voting for Division officers will be on the menu Hunley Awards The forming of a committee and presenters for the 5-6 High School JROTC groups for the Hunley Award Distribution and presentations. And promoting same to more High Schools Sam Davis Youth Camp The forming of a committee to fund raise and promote the Sam Davis Scholarship using essay contest to pick winner. Cost is about $500 per child Upcoming CS Memorial Day at Redlands Cemetery jointly held with UDC. It was agreed to host an on site picnic after the ceremony. Inviting the Armory Band to provide period music Date is Saturday March 25th, and start time is 11 AM CSA Flag Day is March 4th, and Bakersfield Camp is leading the Bakersfield to Ft Tejon to Tehachapi Flag toting caravan. Some of us joined them last year and it is a hoot.

Also upcoming reenactments such as Calico this Presidents Day weekend, the Vista Reenactment March 4/5, Moorpark April 1/2, were discussed

One major announcement is that Commander Smoley is moving to AZ and is passing the baton of camp leadership to Mike Climo as interim commander. The date for the next camp meeting was decided to be April 8th, possible venue to be Roc's Firehouse Pub & Grill in Palm Desert. The desert will be still cool then, and this venue is SCV friendly This meeting will be a voting meeting for the office of Commander, Lt Commander, & Adjutant. Anyone interested in serving at one of these posts will need to let the camp know, and be on the ballot.

After business portion was completed, Commander Smoley presented a comparison and contrast of the elections 1856-1860 and what we just witnessed in 2016. Lots of interesting parallels. Meeting was completed with the Steve Madden Monkey Poker with many goodies won, Commander Smoley gave the closing benediction. The "After Meeting commenced shortly thereafter for grog and stogies.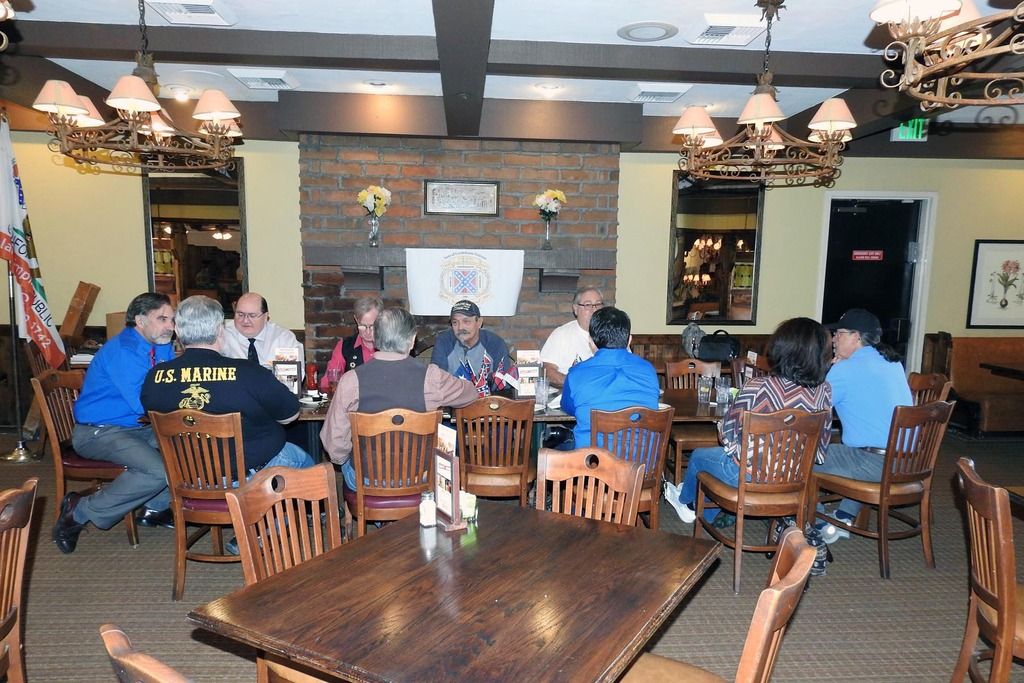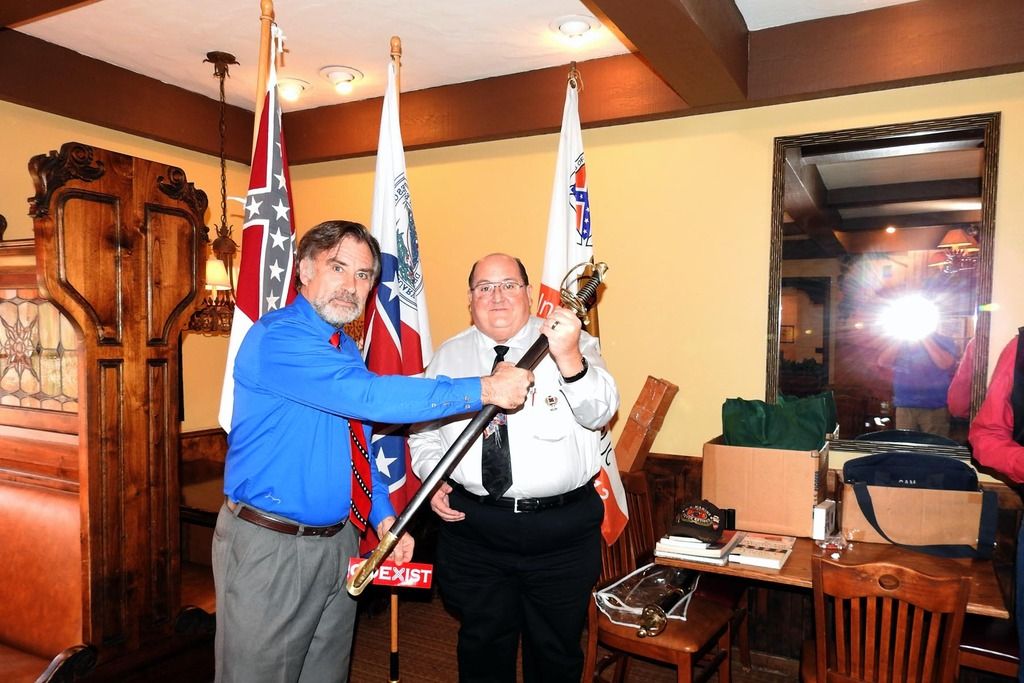 Deo Vindice,
John Smoley
Camp 1742
---
10/01/2016 Camp Meeting
Roc's Firehouse Palm Desert
Photos courtesy of 1st Lt. Commander Jerry Dupree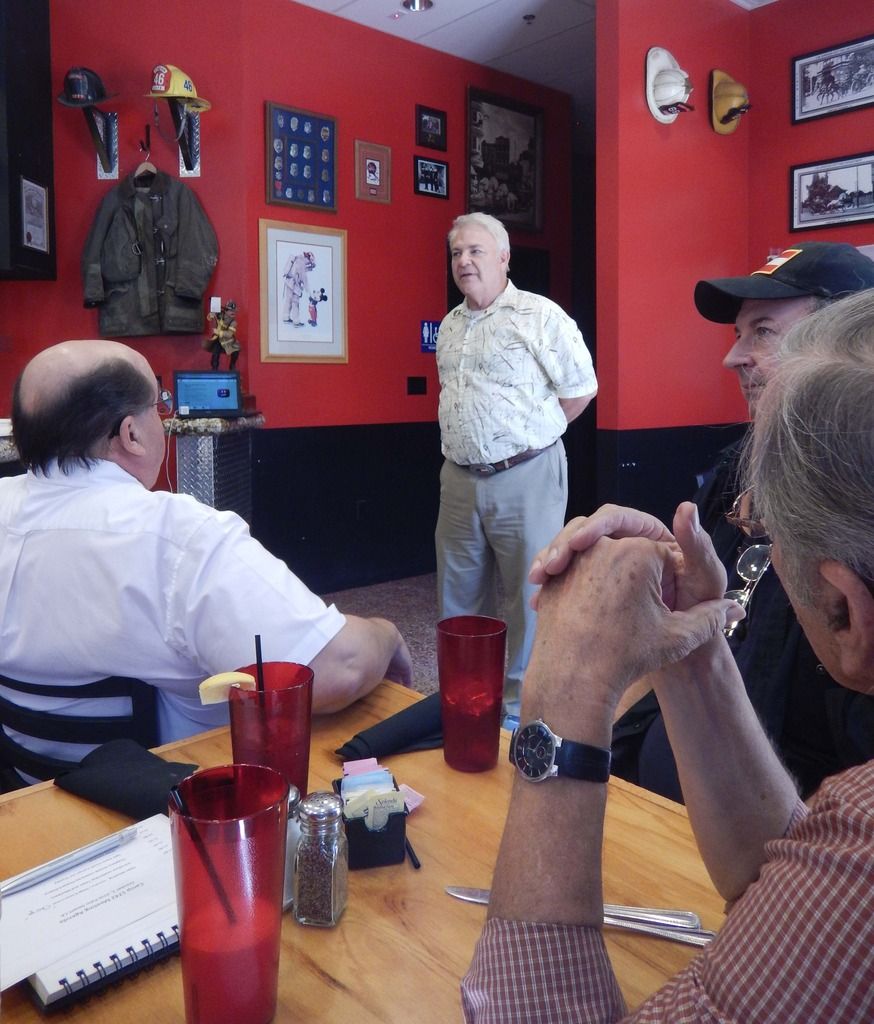 Compatriot Jon Hussey provides the camp with information about the SCV Sam Davis Youth Camps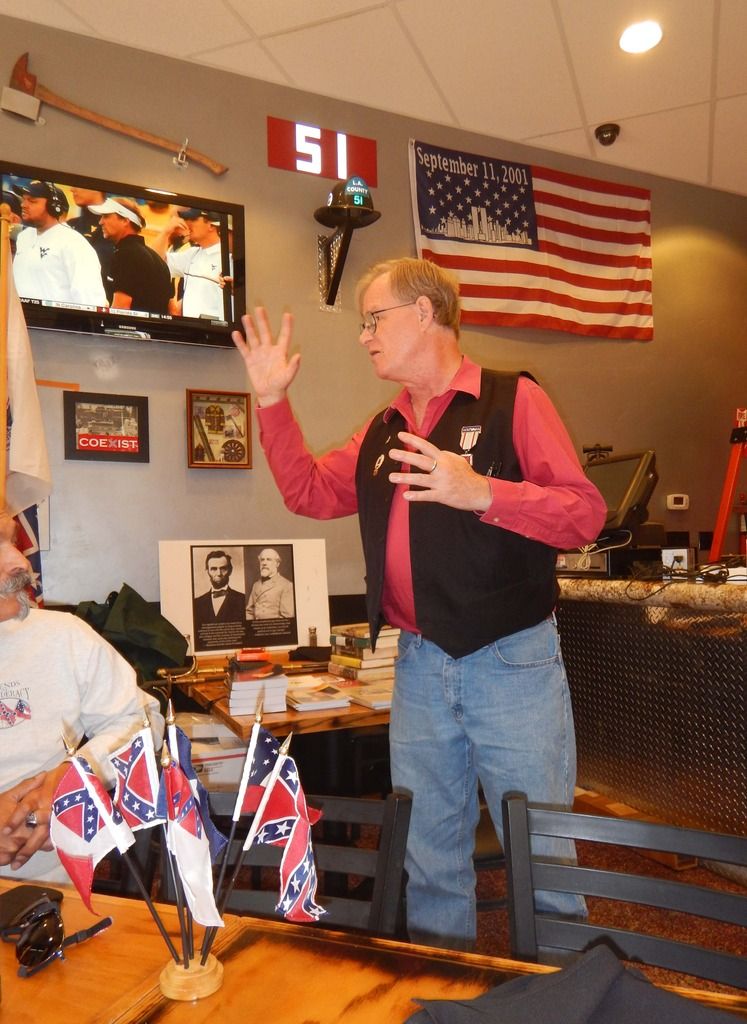 Camp Adjutant, Historian and Past Commander Steve Madden talk regarding "Shades of Grey"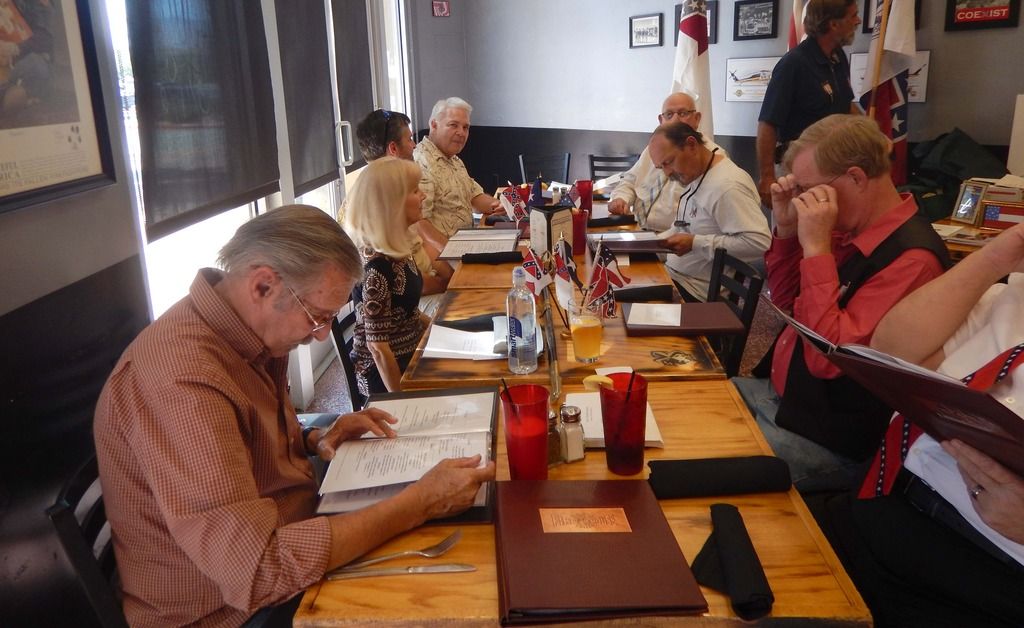 The hungry crew peruses Roc's menu.

---
06/25/2016 Camp Meeting

Fellow Citizens,

We held our camp meeting today at Marie Callendars Restaurant in Corona.

Attendees were Jerry Dupree, Billy Williams, Steve Madden, Mike Climo, John Smoley, Joe Aceves, Jim Craig, and first time attendee Ron Cole, and returning camp member Howard & Alicia Pearce who both joined our camp as a Son and Friend of Camp 1742.

We were served by the lovely Ramona once again, I think we have been four for four with her, and it seems the staff there is happy we are there. We get a beautiful private section of the place all to ourselves.

We discussed earlier events that the camp has done this year, including the CS Memorial at Redlands Hillside Cemetery, the great time at our Division Reunion at Bakersfield, earlier reenactments and our participation in the Flag Rally from Ft Tejon to Tehachapi. Also discussed was the ongoing insanity by the PC libturd lunatic fringe against all things Confederate, as well as anything American. God and Country seems to be an anathema to these rabid bolsheviks. Now there is a serious movement to blast away the carvings at Stone Mountain, because they are "offensive" to add to the litany of other ongoing lunacy. The Southern Baptist Church has now made it official that they are opposed the battle flag. Evidently they have been infected as well.

Upcoming events include the national convention in Dallas, John Smoley and Mike Climo will represent our camp there. We plan to hold our next camp meeting in August just after the convention. Also coming up is the Ft Macarthur Living History event in San Pedro, and later on Labor Day weekend is the Huntington Beach reenactment. We should be thinking about our year end venue. the last 3 years have been held at the Norco pub, but this year it may not be available. So open to other ideas there.

We installed Howard and Alicia Pearce as Members of our camp, and Lt Commander Jerry Dupree took photos which will posted on our website by Signals Officer Mike Climo.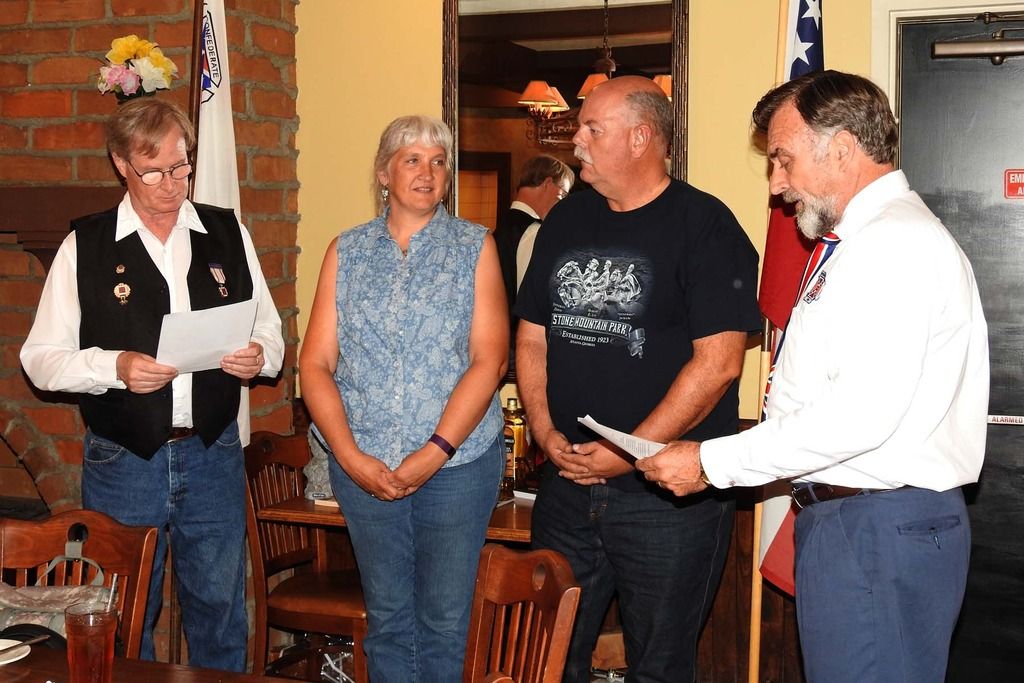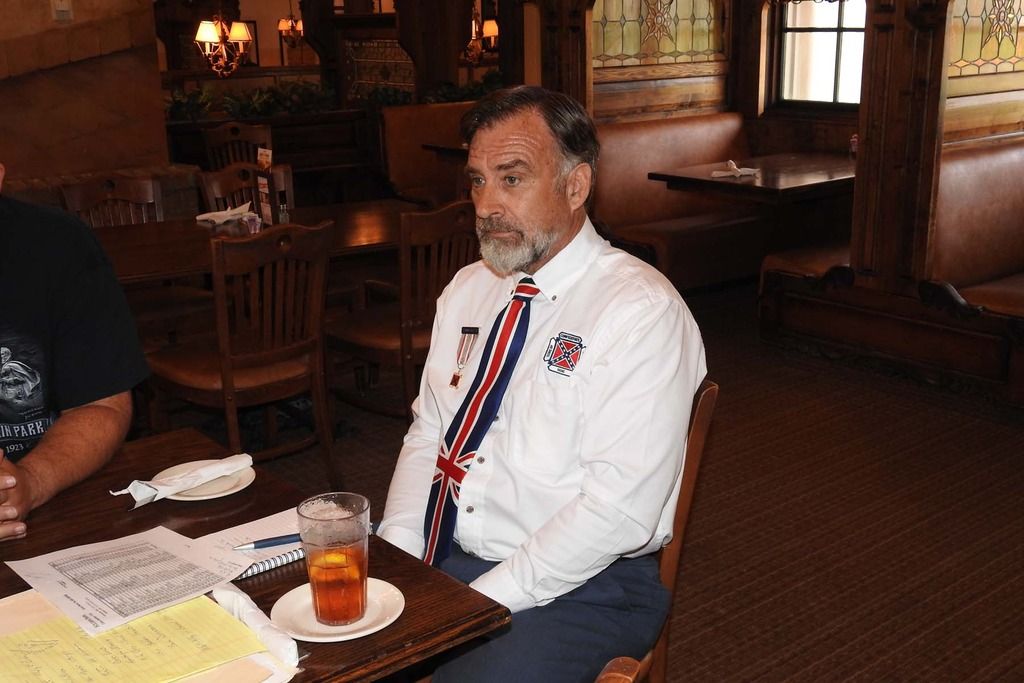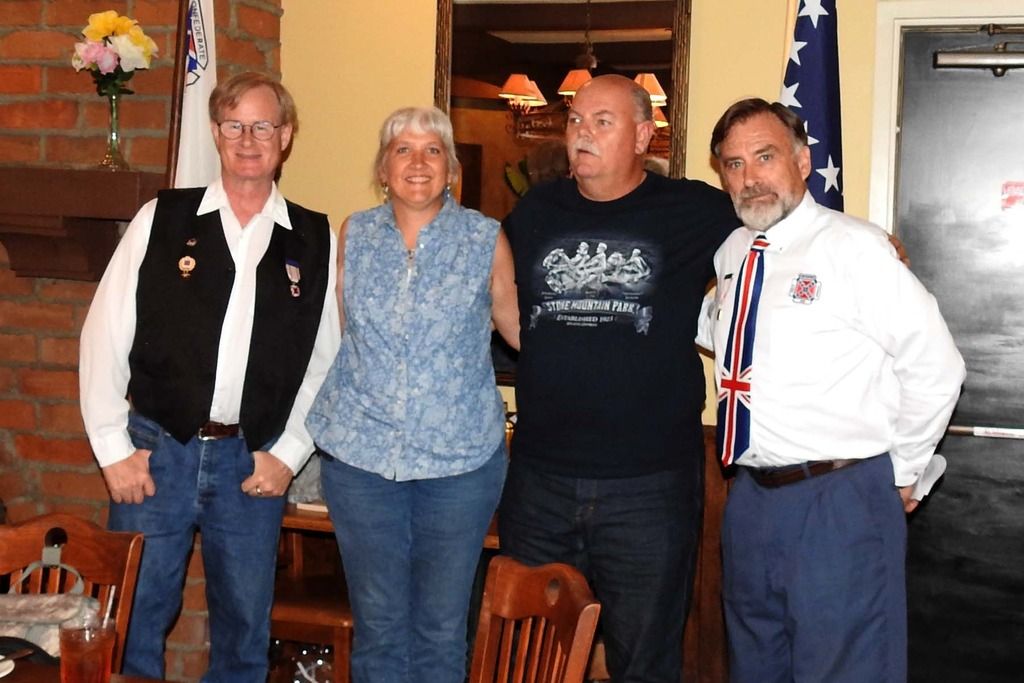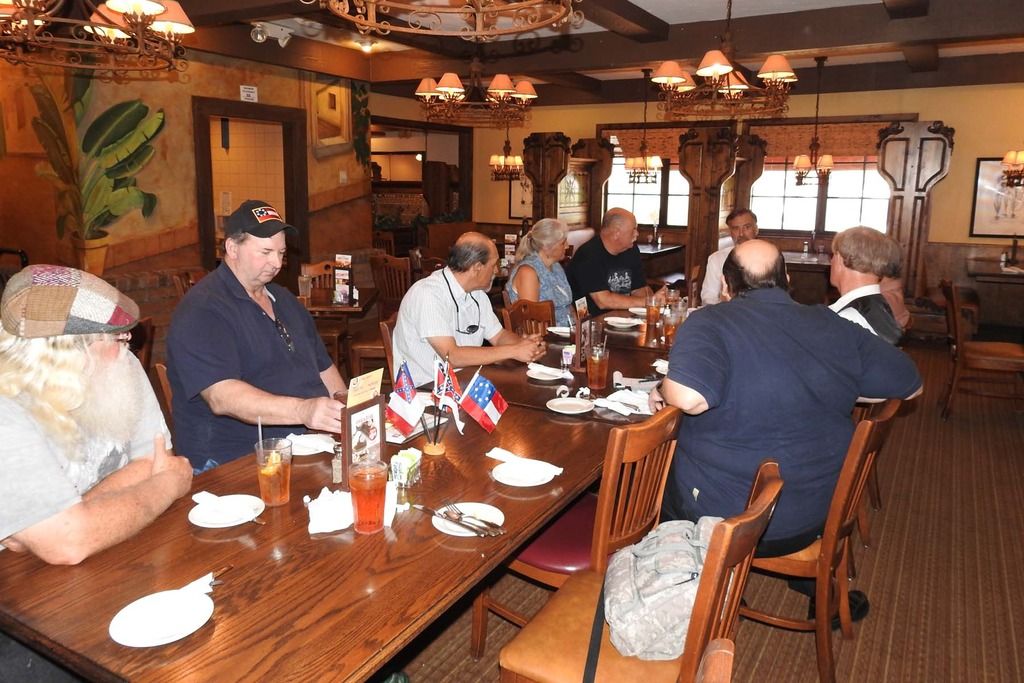 We discussed the new book, "Slavery was not the cause of the WBTS, the irrefutable answer" by Kizer. A very eye opening book that actually makes a great case that the North had no choice but to go to war, just to survive. Alicia Pearce won the poker drawing and got a free copy of that book, and Howard won the obligatory bottle of booze too.

Then a few of us went to the patio for the after meeting meeting. A fine time had by all.

Deo Vindice,
John Smoley
Camp 1742